Speedfest #9 @ Klokgebouw, 23-11-2014
We schrijven al een paar jaar dat Speedfest het beste indoor festival van de Benelux is. Zeker in de genres "loud, heavy and fast". Toch krijgen de organisatoren van Peter Pan Speedrock het dit jaar voor elkaar om alles weer net dat stukje beter neer te zetten. Zeer professioneel, wat echter nergens ten koste gaat van de ongedwongen, vrije, vriendschappelijke en gebroederlijke sfeer en beleving. Het openen van een heus Heavy Metal Steakhouse is een mooie toevoeging, maar het is echter vooral de ouderwetse combinatie van een uitstekend programma met 5.000 fans van rockabilly, punkrock, garage, metal, hardcore, psycho, surf and speedrock die deze editie weer zo succesvol maakt.

Tekst: Reno van der Looij | Foto's: Elke Teurlinckx
De negende editie van Speedfest lijkt ook internationaler dan ooit bezocht te worden. Op vrijdagavond zijn de spijkerjacks ("Kutte" genaamd, je leert nog eens wat) van de Turbojugend vanuit heel Europa overal al terug te vinden in het lokale uitgaansleven. Deze vriendelijke fans van headliner Turbonegro hadden tevens mooi het geluk dat de nationale Popronde die avond in Eindhoven neerstreek, zodat er volop keuze was om overal in de stad al livemuziek mee te pikken.
Nederlandse inbreng met Wolfskop en Herder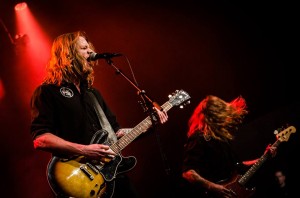 Net na het middaguur voelen de heren van Wolfskop prima aan waar het om draait vandaag: begin de dag met een lach, begin de dag met een dansje. Na de cheesy maar hilarische danspasjes van de heren blijken ze gelukkig met de eigen instrumenten stukken beter uit de voeten te komen. De dikke hardrock (horen we daar wat Foo Fighters doorklinken?), mooie refreinen, meerstemmige zang en een goed geluid zorgen voor een dijk van een optreden.
Het volgende hoogtepunt van de dag dient zich ook al vroeg aan. De progrockers van … And You Will Know Us By The Trail Of Dead lijken in eerste instantie een beetje vreemde eend in de bijt op Speedfest, maar een agressieve en ijzersterke set wijzen anders uit. Wat een klasse band. Nu we het toch over hoogtepunten hebben, hebben we met Kadavar wellicht het beste van de dag te pakken. De Duiters laten in een "triggerfinger-podium-opstelling" zien en horen dat onvervalste retrorock nog steeds zeer relevant is. Wat staan deze heren een dikke set te spelen met een glansrol voor de beestachtige drummer.
Tussendoor zetten Herder (waarom is die zanger nou zo boos?) enThe Shrine ook prima sets neer: twee zwaar uiteenlopende genres die beiden toch prima in elkaar over gaan op de Demolition stage. Van een alles verschroeiende mix van sludge, hardcore en metal van eigen bodem naar onvervalste traditionele bluesy hardrock uit The States: het kan allemaal op Speedfest. Ietwat minder tevreden stelt het optreden The Capaces. Het geluid op de Thrashers stage blijft de gehele dag wat achter ten opzichte van de twee grote zalen, maar tijdens dit optreden is het wel heel erg slecht.
Drie podia en een toffe DJ geeft keuzestress
De overlap van de drie stages heeft als logisch gevolg dat er keuzes moeten worden gemaakt. De meest pijnlijke keuze is het missen van Banane Metalik, waar spectaculaire verhalen over de ronde gaan. Maar hey, Doomriders is ook niet verkeerd. Op de Wrecker stage worden dan ook alle registers opengetrokken door deze Amerikanen om het publiek te overdonderden, wat ze dan ook prima lukt. Dan is daar nog die dekselse DJ De Rooie Neger die plaatjes draait bij de foodcourt. Hier wordt zo nu en dan ook een feestje gevierd, waardoor menig bezoeker de podia even laat voor wat het is. Van Duitse Schlager tot de metal van Pantera: De Neger draait het allemaal.
Napalm Death gaat vervolgens met Herder de strijd aan voor de titel van lompste en hardste band van de dag. De strijd lijkt onbeslist. Als tegen middernacht de New York Hardcore show van Madball ten einde loopt (wat een energie brengen Freddy en de zijnen weer!) verhuist de massa massaal richting de Demolition voor Turbonegro. De zaal staat volgepakt voor de deathpunk van deze Noren. Turbonegro moet natuurlijk ook met een flinke korrel zout genomen worden (en het is zeker niet de beste band van de dag), maar dat ze de ideale afsluiter met hoog meezinggehalte voor een feestje als Speedfest zijn, staat buiten kijf.