Nieuwe namen voor HELLDORADO met o.a. DeWolff
Nog een half jaartje doorbijten. Dan is de zomer gelukkig voorbij en gaat op zaterdag 17 november the highway to HELLDORADO-The Incredible Rock & Roll Freakshow weer open. Afslag 66,6 naar Strijp-S nemen en dan het laatste stuk niemandsland richting Klokgebouw volgen, dat al van heinde en verre te zien is door een bloedrode mist met bliksemflitsen erboven. Deze mysterieuze plek is voor één dag per jaar het decor van heavy rockacts, circus side shows en comedy.
Vandaag voegt de organisatie met Banane Metalik, DeWolff, Drown the Clown, Greenleaf, Lucifer en The Picturebooks een zestal zeer HELLDORADO-waardige acts aan het duivelse programma toe. Meer specifiek/respectievelijk: Franse gore'n'roll; psychedelische 'canis lupus' bluesrock (NL); een clown die bezoekers beledigt tot hij kopje onder gaat; Zweedse vuige desertrockers; heavy bluesrock-all star band (ook uit Zweden) met o.a. Nicke 'The Hellacopters' Andersson en met frontvrouw Johanna Sadonis (ex-The Oath); plus een Duitse biker tweemansband die met zijn rauwe 'zero fucks given' rock blues iedereen op de knieën krijgt.
Eerder werden al Death Alley, Death Do Us Part Dangershow, the Hip Priests, Hola Ghost, Kadavar, Turbonegro en Vurro aangekondigd. Meer namen volgen spoedig. HELLDORADO #2 wordt dit jaar op zaterdag 17 november in het Eindhovense Klokgebouw gehouden.
Tickets zijn verkrijgbaar via de website.
Line-up tot nu toe; komend half jaar volgen veel meer namen
Bands: Banane Metalik, Death Alley, DeWolff, Greenleaf, The Hip Priests, Hola Ghost, Kadavar, Lucifer, The Picturebooks, Turbonegro, Vurro
(Circus) side-show acts: Death do us part dangershow, Drown the Clown
Comedy: volgt spoedig
HELLDORADO 2017
Vorig jaar november was het Eindhovense monumentale Klokgebouw een parallel universum dat bevolkt werd door een bonte stoet van magiërs, kluizenaars, heremieten, dwazen, bloedmooie vrouwen, slangenbezweerders, charlatans, duivels, rock-'n'-rollfans en freaks in alle soorten en maten. Zij kwamen af op de eerste editie van het gloednieuwe en one of a kind festival HELLDORADO-The Incredible Rock & Roll Freakshow, dat 4000 bezoekers uit binnen- en buitenland verwelkomde.
Met meer dan 30 acts op vier podia genaamd Lion Stage, Cobra Stage, Tarantula Stage en Cockroach Comedy Chapel (stand-up comedy), plus een heus loopspookhuis, bood het unieke rockfestival zijn nieuwsgierige bezoekers een memorabele dag en nacht die álle zintuigen prikkelden. Een gecombineerde space trip langs een rockfestijn (o.a. metal, psychedelica, surf, rock-'n'-roll, trash, garage), comedyclub, Carnivale, kermis en circus- freakshow.
HELLDORADO-The Incredible Rock & Roll Freakshow
Op HELLDORADO zijn de muzikale entiteiten, de side show acts en stand-up comedyeven belangrijk. Ze vormen samen met een ruim aanbod aan food & drinks een onheilige drie-eenheid. Een theatrale kruising tussen Jheronimus Bosch' Tuin Der Lusten, Las Vegas in de jaren twintig van de vorige eeuw, Coney Island, Dantes La Divina Commedia en de Twilight Zone: even ongrijpbaar als betoverend. HELLDORADO oogt gevaarlijk maar is gastvrij en geestig.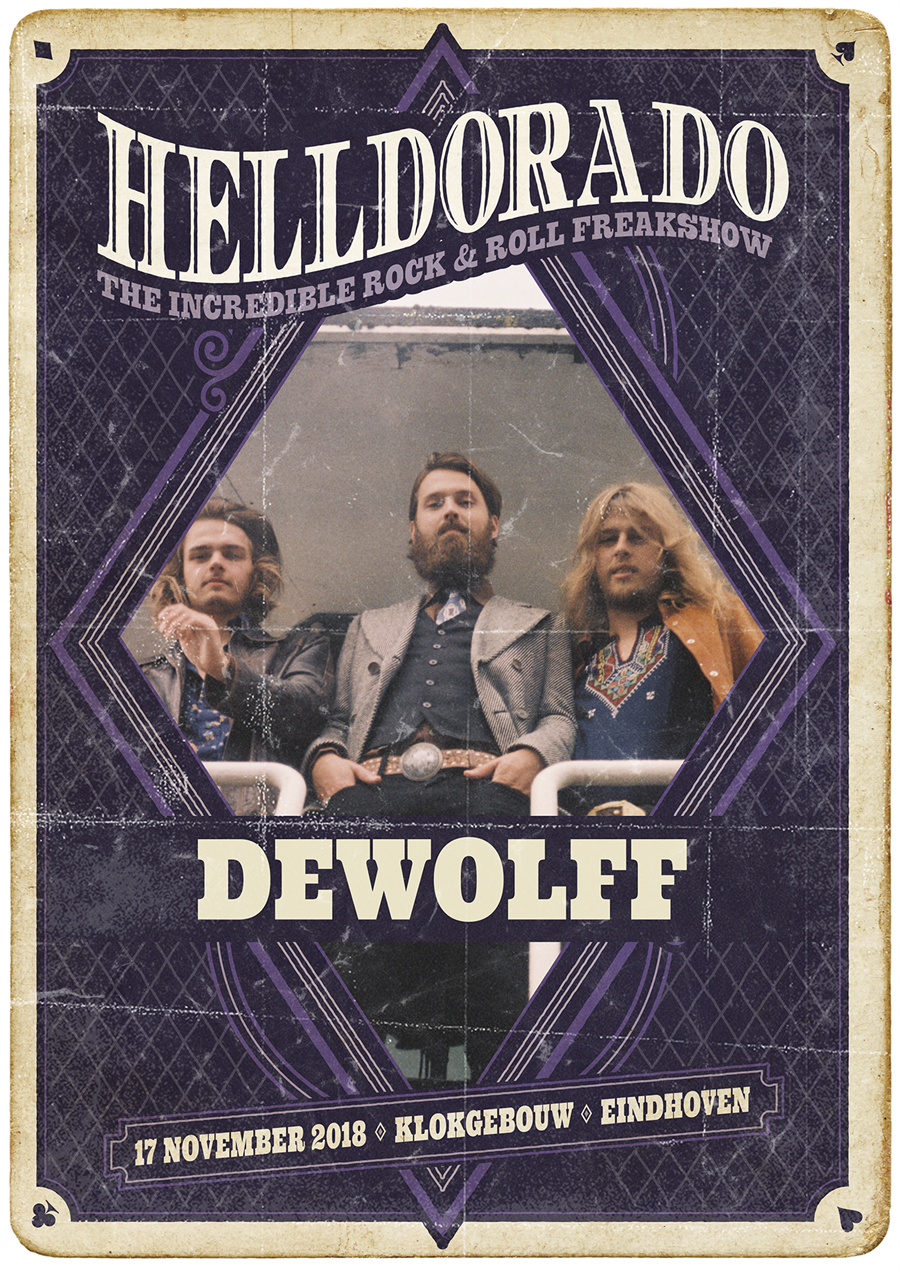 DeWolff
Some ten years ago DeWolff hit the ground running as a young trinity sounding way beyond their age. Nowadays they're seasoned musicians in their own right,   ever sharpening their self-proclaimed raw psychedelic southern rock, letting that Hammond soar. And they've been around, from Russia to Australia. Next stop: Eindhoven.
Drown The Clown
One of the longest running Dutch carnival acts has splashed more water around than our last major flood in 1953. Clown Johnny is making a mockery out of everyone who misses the mark with their projectiles, but once you hit bulls-eye, down the clown goes in a tank full of water. Don't feel too guilty though, the man can swim.
Lucifer
In the beginning there was The Oath, a band that brought hard seventies rock with a female twist and a sound for this century. From the ashes of The Oath rose Lucifer, coming across like The Devil's Blood was on a heavy Heart trip. Now there's the second and even better installment of Lucifer, featuring drummer extraordinaire Nicke Royale. Yes, the man we know from Entombed and The Hellacopters, to name a few, he who played a blinder at the first Helldorado with Imperial State Electric. Need we say more?
The Picturebooks
Last year at Helldorado we had Big Business, the gold-standard of two-man-bands. The Picturebooks are from the same tree, but from a different branch: two German brothers from another mother, bringing the essential fucked up blues in 24 Carat songs. For instance, Zero Fucks Given might be the best European blues song ever made, be it with a severly eerie ring to it and the almighty boom to match it underneath. Call it Teutonic twang, either way we go out sliding with a bang.
HELLDORADO Tickets
Tickets gaan a.s. zaterdag 24-3 om 10: 00 uur on sale en zijn verkrijgbaar via de website. Er zijn slechts 500 Early Birds beschikbaar a €40,-.
Reguliere tickets kosten €49,-
Tiketprijzen zijn exclusief €2,50 servicekosten